Minecraft commands and cheats 2023 – every console code
These Minecraft commands and cheats will help establish your server in no time, and give you help with your seed.
Last updated
We've checked for new codes
In a huge sandbox like Minecraft, getting your seed up to scratch can take a lot of time and effort, so why not reduce that time with the best Minecraft commands and cheats? Using the game's console, you can duplicate items, spawn creatures, or turn your world into Atlantis – the choice is yours.
What will you pick, though? Have a browse through the Minecraft console commands below and get creative.
No codes found
General Minecraft commands:
| Description | Code |
| --- | --- |
| Gives you more information on the chosen command | /help [CommandName] |
| Used to give another player an item from your inventory | /give [Amount] |
| Teleports a chosen player to a specific part in the world. | /tp [player] xyz |
| Kills your character | /kill |
| Gives chosen player free experience points | /experience add |
| Changes the difficulty to Peaceful, Easy, Normal, or Hard | /difficulty |
| Changes to weather to rain, thunder or snow | /weather |
| Changes the gamemode to Creative | /gamemode creative |
| Changes the game mode to Survival Mode | /gamemode survival |
| Sets the time to day. Replace 1000 with 0 for dawn, 6000 for midday, 12000 for dusk, and 18000 for midnight | /time set 1000 |
| Produces a code for your world | /seed |
| This will stop time in its place | /gamerule doDaylightCycle false |
| Instantly spawns a creature or object of your choice | /summon |
| Submerges almost everything in water | /atlantis |
| Turns a creature into a mount | /ride |
| One click mining | /instantmine |
| Stops any creature in their tracks | /freeze |
| Turns fall damage on or off | /falldamage |
| Turns fire damage on or off | /firedamage |
| Ensures you keep all your items when you die. | /gamerule keepInventory true |
| Ensures you lose all your items when you die. | /gamerule keepInventory false |
| Turns water damage on or off | /waterdamage |
| Turns all held items into their smelted form | /superheat |
| Boosts the growing time of seeds | /instantplant |
| Stores all inventory items into a nearby chest | /dropstore |
| Removes weapon damage and degradation | /itemdamage |
| Copies the item equipped | /duplicate |
What is Minecraft?
Minecraft is an enormous sandbox adventure in which players can explore procedurally generated worlds, mine for resources, craft tools and items, battle mobs of enemies, and create huge structures.
The game was originally created by Markus 'Notch' Persson and released into the wild fully in 2011. Since then, it has become the best-selling videogame of all-time, and can now be played on several different platforms.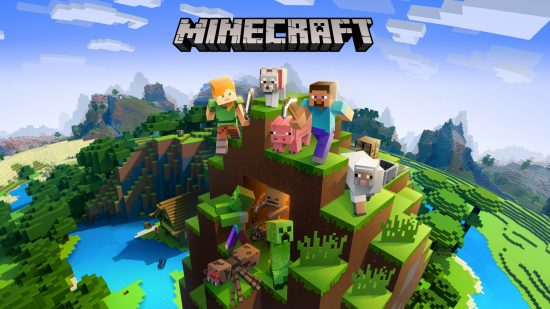 How do I enable the Minecraft console?
Firstly, when creating your world – be it survival or creative – be sure to have 'Enabled Cheats' selected or the console will be blocked! To pull the console menu up, you'll need to hit '/' on your keyboard.
How do I use Minecraft commands?
To use one of the many Minecraft cheats above, you'll need to pull up the console, and then enter a command from our list above. Every command will need to be entered with a forward slash (/) for them to be valid.
You'll have to pick a recipient for the command, but rather than typing our a player's full name, you can use the following shortcuts to find the right person:
@p –  nearest player
@r – random player
@a – all players
@e – all entities
@s – the entity executing the code
When you're ready to use your command, hit the enter key.
Just remember: commands can only be used in worlds that have cheats enabled.